EGR Delete | Dodge/Jeep 3.0L EcoDiesel 2014-2018
The Diesel Dudes is a family owned business in Montreal, Canada. Our mission is to serve diesel truck owners with high quality parts and software, while providing excellent customer service along the way. 
If you have any questions about our products, or if you are wondering what kit is best for your truck, please reach out. 
Since our inception, our entire goal was to answer any and all questions our customers have. 
We get it, tuning can be complicated, and getting it wrong can damage your truck. That's why we went out of our way to find only the best tuning options for each and every truck model and year, and when we couldn't find a good enough option, we made our own. 
That's right, while we are the authorized dealer for many tuning companies, such as GDP and Proven Diesel, our technicians make many of our tunes in house. 
So either way, we have in house technical support on all of our products, in case you get stuck on the installation. But our installation guides and videos should be more than enough to get you going. 
Just remember, if you ever have questions, just call us at 888-830-2588 and our team will help you out!
You can also follow us on Facebook!
Regular price
Sale price
$295.00
Unit price
per
Sale
SOLD OUT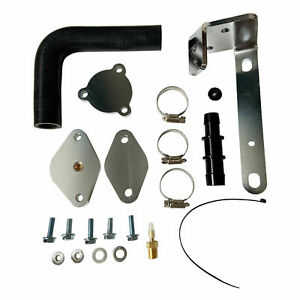 Description

 Note: This EGR Kit fits both the Ram and Jeep Ecodiesel. It allows for a full EGR valve and cooler delete for the Ram. The the Jeep, it only deletes the EGR valve, not the cooler. 


Product:

2014-2018 Dodge EcoDiesel EGR Delete Kit

Factory cooler setups recirculate soot and harmful gasses through your engine causing build-up and clogs, resulting in loss of performance and proven mechanical issues. Our 2014-2018 Dodge EcoDiesel EGR delete kits remove those concerns from the equation. Keep in mind, tuning is required whenever you delete your EGR. Luckily we have plenty of options for your needs! The HP Tuner is perfect for this application.

Refer to our FAQ page if you have questions about our products. If you have a question we have not covered, feel free to contact us


Dodge Ram Features:

Completely remove your EGR valve & EGR cooler

Eliminates soot build up and clogged EGR valves

Lower coolant temperatures

Hot exhaust gasses not longer rerouted into intake

Improved exhaust flow allows turbocharger to spool faster, resulting in quicker throttle response

Engineered to recirculate engine coolant faster and more efficiently than stock EGR system

High quality components consist of billet aluminum construction, nickel plated steel flanges, stainless steel dipstick tube bracket, high temp silicone hoses, zinc coated hardware & precision O-rings.

Everything needed for a complete install is included. You only need basic tools.

Note: This kit must be used with DPF/EGR delete tuning! Our HP Tuner is the perfect choice

Race Use Only

This product is not legal for road use, please refer to your State's legislation for more information.
Great company to buy from!
Some of the best customer service i have ever received, verry helpful and informative. I could not have done my delete without the help and services from DieselDudes
Easy ordering/Came quick
Obviously installing the EGR delete will be different for each person. Some will make it easy some will make it difficult. The Parts that came in the packaging were in great shape and made the install easy. Definitely would recommend to anyone and everyone!!!