Regular price
Sale price
$4,499.00
Unit price
per
Sale
Sold out
This brand new full delete bundle for the L5P Duramax is the first of its kind to simplify the tuning process for 2017+ GM & Chevy Trucks. With the included ECM Upgrade Kit, you no longer need to purchase an unlocked ECM. Included is everything you need for a full DPF/DEF/EGR delete.
We Pay Shipping

Tech Support

Installation Guide
View full details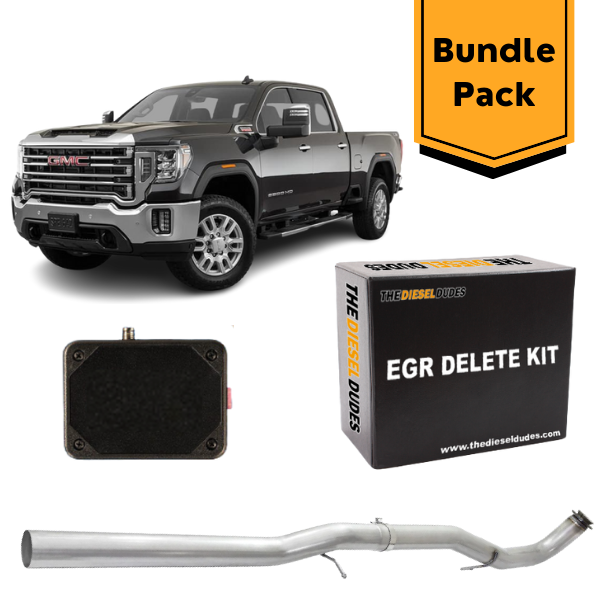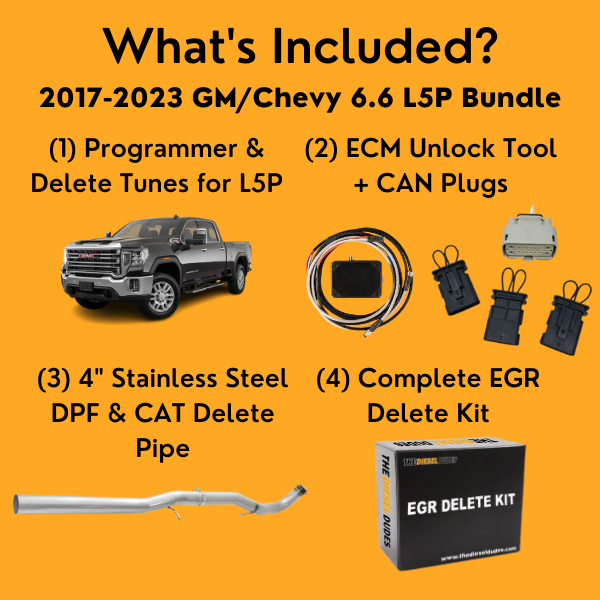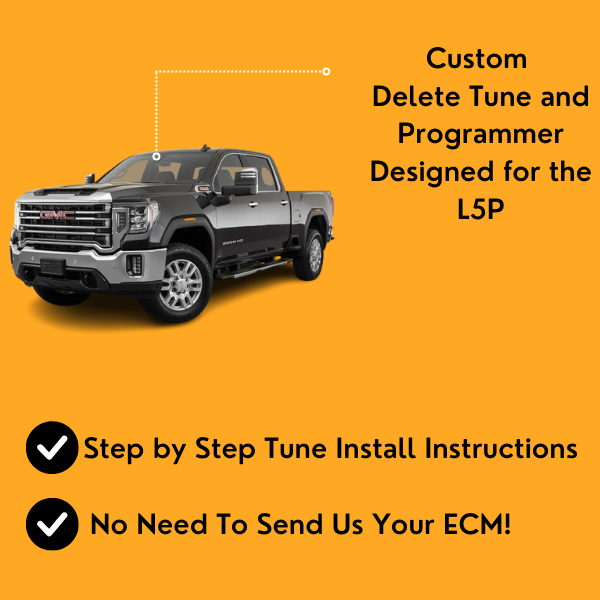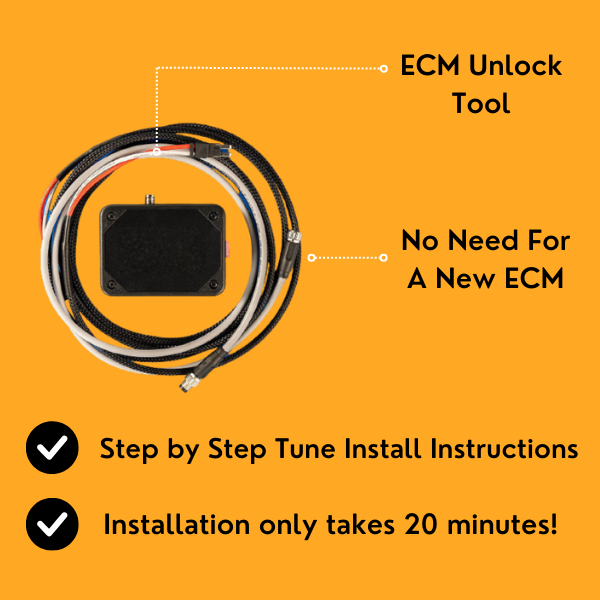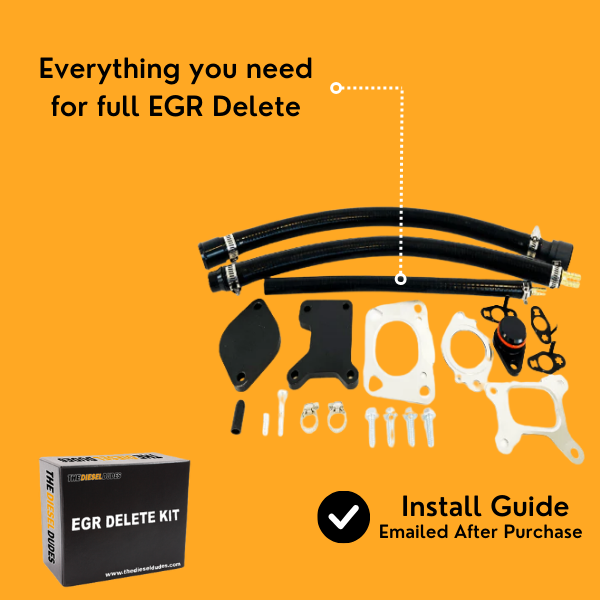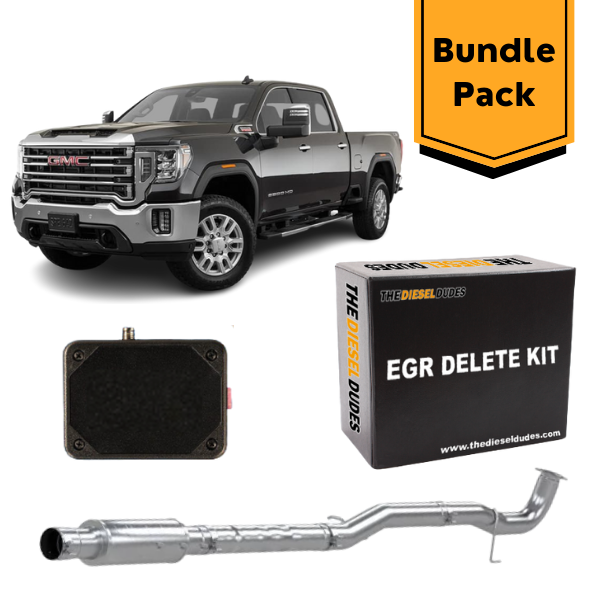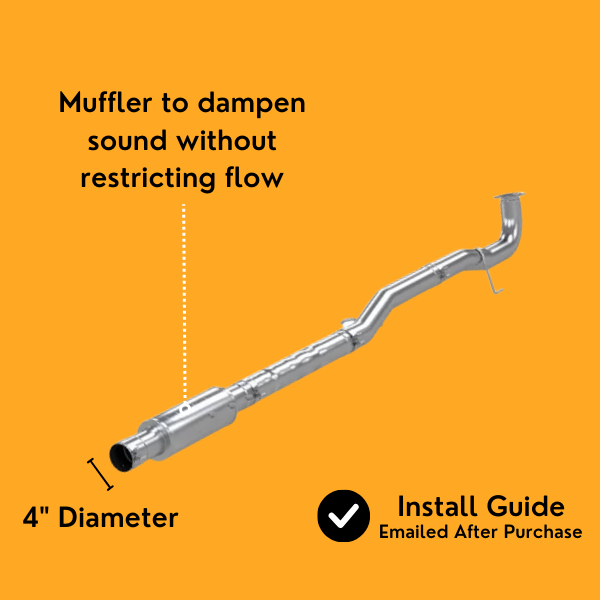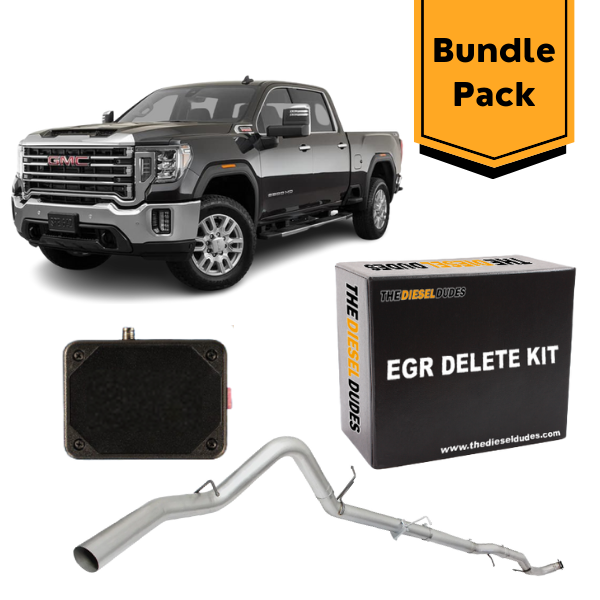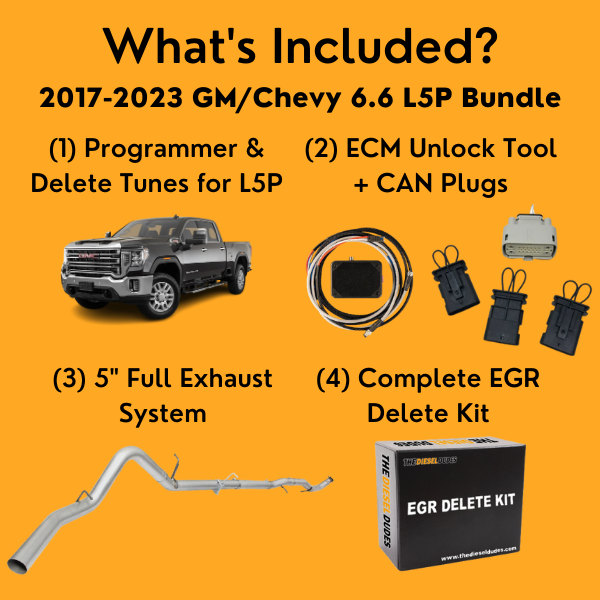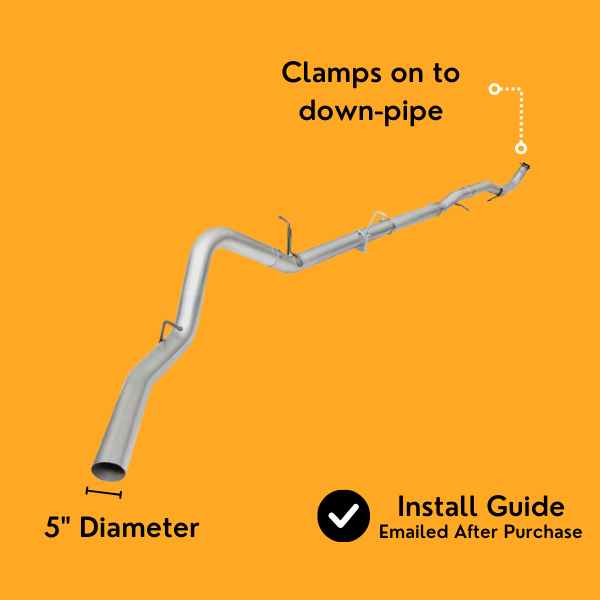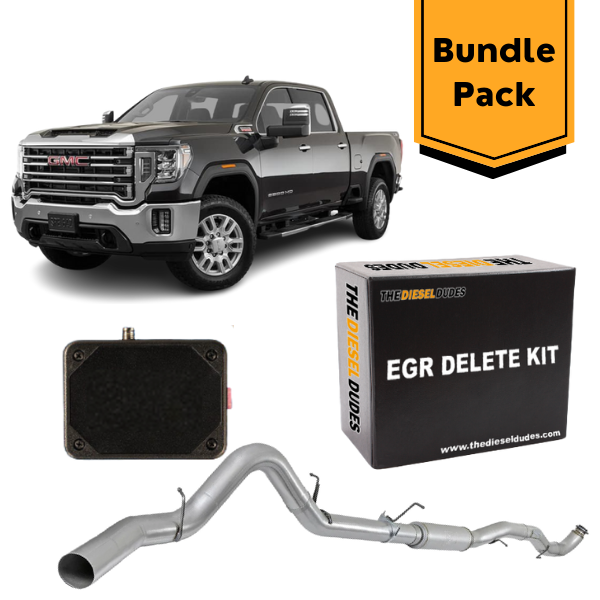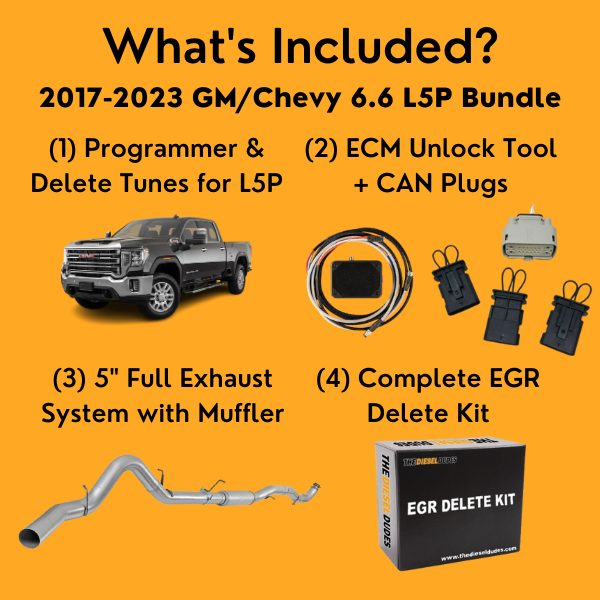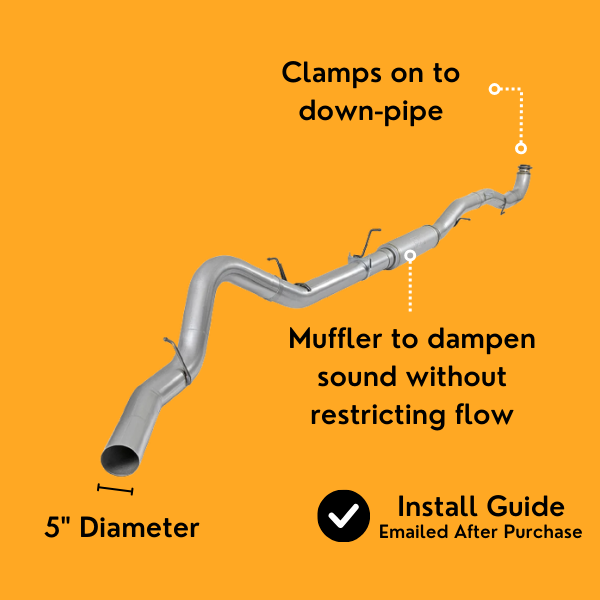 Collapsible content
NO MORE EMISSIONS CODES

When you install the delete tune, your truck will no longer have emission related codes or warnings. 

This includes all

1) "See Dealer" codes

2) Check engine codes

3) "Exhaust system service required" codes

4) Limp Mode codes

5) Other emissions related diagnostic codes
HOW DOES IT WORK?

The Full Delete bundle(s) will permanently upgrade your truck to work without the suffocating factory emissions system.

This means you can remove ALL emissions-related parts and sensors for good, including the:

- DPF (Diesel Particulate Filter)

- DEF tank (Diesel Exhaust fluid)

- EGR System (Exhaust Gas Recirculation)

- CAT (Catalytic Converters, including DOC and NOX, etc.)

This is made possible by custom delete tunes that wipe away the emissions system from your truck's computer.

Once the pesky emissions system is "deleted" from your truck's programming, you can proceed to remove all of the parts that are holding your diesel back from running at its best.

Our kit includes a DPF/CAT delete pipe that bolts in place of the original DPF and CAT in the exhaust system.

Lastly, the EGR delete kit will allow you to fully remove the original EGR system, seal shut the openings, and reroute the exhaust to flow out of the pipe.
WHAT'S INCLUDED?

1) Tuning unlock tool

2) Delete Tuning with Shift on The Fly

3) CAN Plugs

4)DPF/CAT Delete Pipe

5) Full EGR Delete Kit
IMPORTANT INSTALLATION INFORMATION

This also requires the use of a laptop to install the tune.

The Laptop must be a PC/Windows with a minimum of Windows 7 operating system. Macintosh and Linux are not compatible.

We will send you a video on how to install the tune after purchase.

The Instructions include steps on using the ECM upgrade kit, your laptop and the HP tuning device so you can easily install your delete tune.
NO NEED FOR A NEW ECM!

Included in this kit is the brand new E41 ECM Upgrade Kit by HP Tuners.

This means you no longer need to purchase and install an unlocked ECM.

This significantly reduces cost and makes installation simple.

Your tune installation only takes 20 minutes when you follow along our step by step video guide (emailed to you after purchase).
TUNE POWER SETTINGS

Our tune will allow you to choose a power setting for any application.

The Power Options range from 0-200HP depending on the Year of your truck.

The Power Options are:

Stock (No HP Added)
+50HP
+80HP
+130HP
+200HP (This level can very 20HP or so depending on if you have a cold air intake and full exhaust)

Shift on the Fly is offered in this package. You can change your horse power level using your trucks steering wheel controls.

A simple to follow, 2 minute video on how this is done is emailed to you after purchase.
BENEFITS

By deleting the factory emission system which has been suffocating your diesel, you'll immediately notice a night and day difference. It will perform better in every imaginable way, including speed, fuel economy (5 mpg increase on average), and fewer trips to the autobody shop.

Over time, the kit pays for itself with the fuel savings alone. That's not even considering how many costly trips to the dealer you'll be saving yourself.

The last benefit is peace of mind, knowing your truck no longer has a ticking time bomb attached to it.
SHIPPING & RETURNS

With standard shipping, you'll receive your kit within 4-8 business days from the moment you placed your order.

With express shipping, you'll receive your kit within 3-4 business days from the moment you placed your order. Express shipping has an additional cost of $199 for this bundle and $299 with the 5" exhaust.

Return Policy

The DPF Delete Pipe is eligible for returns only if it is unused (ie: it was never installed on your truck) within 30 days of purchase. You are responsible for return shipping fees. There is also a $100 restocking fee.

The EGR Delete Kit is eligible for returns only if it is unused (ie: it was never installed on your truck) within 30 days of purchase. You are responsible for return shipping fees. There is also a $30 restocking fee.

The remainder of the kit is not refundable. This includes all the parts required for tuning and the ECM upgrade kit.
GM/Chevy Duramax 6.6 L5P Full Delete Bundle | 2017-2023
Feels like a new truck
Instructions were top notch, parts were even better! There are only 3 cons I must share, I got the fabricated 3.5" down pipe and I wish they had given a longer piece of heat wrap. The second is maybe supply the heater core line tool to remove the line off the firewall. Thirdly was the hardware for one of the block off plates almost got me. Did not overtorque it, used a snap on digital torque Wrench and the bolt almost broke in half. Other than those the kit is flawless. 5 stars
my truck
worked as The Diesel Dudes said it would. My chevy 2017 3500 runs better and not using as much go juice as before. Great customer service Keep Up the good work Diesel Dudes
Nice products
The service was great, written directions were a little vague in areas.
Some how to videos would be very helpful for those on there first attempt and not EXACTLY sure of all the details
Enjoyed working with the staff !
THE DIESEL DUDES vs Other Retailers
Talk To A Real Human at 888-830-2588

Hide Behind Their Website

We Ship World Wide, Including USA

Limited Shipping Locations

Hundreds Of Positive Reviews From Real Customers

Bad Service & Bad Reviews (or none at all)

Hand Selected The Best Delete Tuners & Parts For Every Year/Make/Model

Show You A Large Catalog Of Options And Tell You "Good Luck, Figure It Out"