Regular price
Sale price
$1,989.00
Unit price
per
Sale
Sold out
The Full Delete Bundle includes everything you need to remove your entire emissions system. Your emissions codes will be gone. Your truck will last longer and get better fuel economy. Included is the EFI Live Autocal with preloaded delete tunes, a rust-resistant full length exhaust system, and a complete EGR delete kit.
We Pay Shipping

Tech Support

Installation Guide
View full details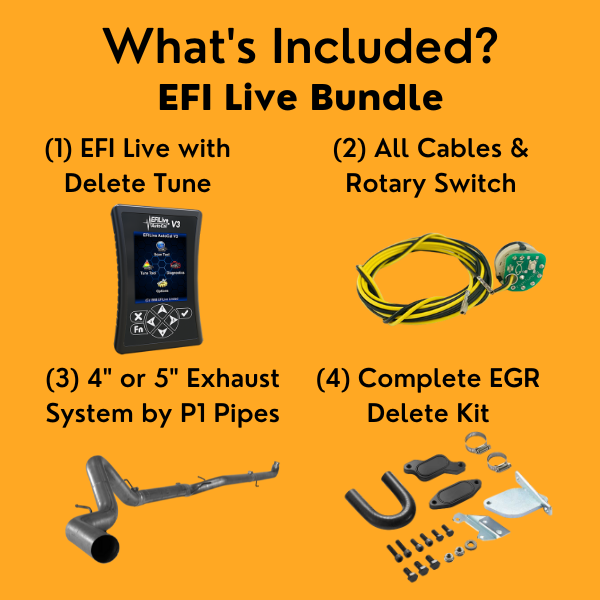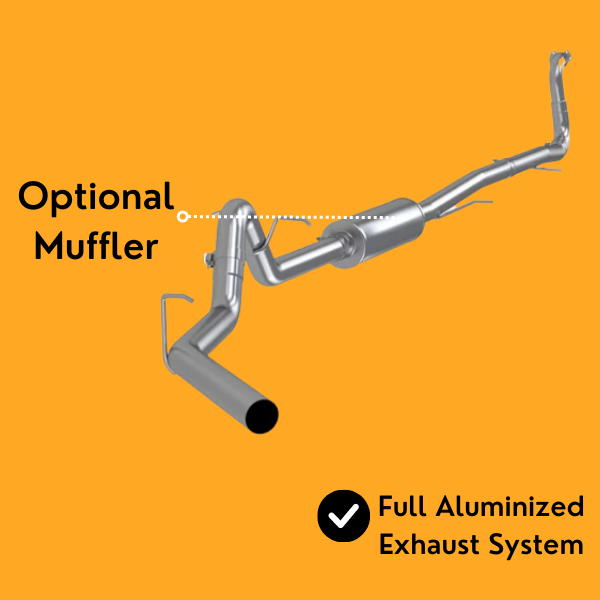 Collapsible content
NO MORE EMISSIONS CODES

When you install the delete tune, your truck will no longer have emission related codes or warnings. 

This includes all

1) "See Dealer" codes

2) Check engine codes

3) "Exhaust system service required" codes

4) Limp Mode codes

5) Other emissions related diagnostic codes
FITMENT

2007.5, 2008, 2009, 2010

GM/Chevy Sierra/Silverado 6.6L LMM Duramax 2500, 3500

The kits will fit all PICK-UP trims, cab and box lengths.

This kit will NOT fit the Cab & Chassis trucks. For all Cab & Chassis trucks, please reach out to our team at 888-830-2588
HOW DOES IT WORK?

The Full Delete bundle(s) will permanently upgrade your truck to work without the suffocating factory emissions system.

This means you can remove ALL emissions-related parts and sensors for good, including the:

- DPF (Diesel Particulate Filter)

- DEF tank (Diesel Exhaust fluid)

- EGR System (Exhaust Gas Recirculation)

- CAT (Catalytic Converters, including DOC and NOX, etc.)

This is made possible by our custom delete tunes that wipe away the emissions system from your truck's computer.

All you have to do is: 

Plug the tuner into your truck's OBDII port (located under the steering wheel)

Follow the tune installation instructions we sent you. (Tech support is also available).

Once the pesky emissions system is "deleted" from your truck's programming, you can proceed to remove all of the parts that are holding your diesel back from running at its best.

Our kit includes a full exhaust system that replaces your factory exhaust, as well as the DPF/CAT.

Lastly, the EGR delete kit will allow you to fully remove the original EGR system, seal shut the openings, and reroute the exhaust to flow out of the pipe.
WHAT'S INCLUDED?

1) EFI Live Delete Tuner and all required accessories. Rotary switch to change power levels

2) 4" or 5" Full Exhaust System

3) Complete EGR Delete Kit

Optional Muffler System.
TUNE HORSEPOWER SETTINGS

These power settings correspond to the 5 levels on your DSP5 Switch.

Level 1: "Stock" 0HP. Ideal for daily driving, towing.

Level 2: +40HP. Ideal for daily driving, light towing.

Level 3: +65HP. Ideal for daily driving.

Level 4: +100HP. Ideal for performance applications.

Level 5: +130HP. Ideal for performance applications.
BENEFITS

By deleting the factory emission system which has been suffocating your diesel, you'll immediately notice a night and day difference. It will perform better in every imaginable way, including speed, fuel economy (5 mpg increase on average), and fewer trips to the autobody shop.

Over time, the kit pays for itself with the fuel savings alone. That's not even considering how many costly trips to the dealer you'll be saving yourself.

The last benefit is peace of mind, knowing your truck no longer has a ticking time bomb attached to it.
IMPORTANT INSTALLATION INFORMATION

Not tech savvy? Nervous about the software or potentially frying your truck? No worries! With every purchase, we send you a step-by-step instruction guide. Further tech support is also available should any issues arise.

The good news is, our tuners also come preloaded with your delete tune, just plug it into your truck's OBDII port and follow our instructions to install your tune. 

And yes, if you run into any technical issues, we got your back. You can contact us anytime and we'll resolve any issues you may encounter.

To install the DPF delete pipe, you'll need basic tools you probably already own (things like wrenches, ratchets, etc.). There is no welding required; it is installed using bolts and clamps (which we provide).

All of the pieces of the EGR delete kit are bolt on as well, no welding required. We will email you installation videos for these parts as well.

If you are a complete fish out of water when it comes to working on your truck, we highly recommend hiring a shop to do the install for you.
IMPORTANT EFI LIVE INFORMATION

The tune we create for the EFI Live is a custom delete tune. After purchasing the EFI Live bundle, you will be emailed a vehicle information form. You are required to provide the following information:

1) VIN

2) Year/Make/Model

3) Transmission Type

4) Transfer Case Type

5) Tire Size

6) Any Vehicle Modifications

Once we receive this information, we need 2-3 days to process your custom tune.

We will ship it to you with the custom tune already preloaded onto the device. Just plug it into your vehicle to upload the tune.

Sometimes, your EFI Live device may show an error code. Do not panic. It is an easy fix.

Every vehicle is unique. In the event that you receive an error code, don't worry. These issues are super easy to resolve.

All you need to do is take a picture of the error message and email is to us at support@thedieseldudes.com

Our tune technicians will revise the tune (within 1 business day). We will email you the updated version with step by step instructions on how to download it on your EFI Live device. 

If you know how to use a microwave, you will be able to do this.
SHIPPING & RETURNS

With standard shipping, you'll receive your kit within 6-10 business days from the moment you placed your order.

With express shipping, you'll receive your kit within 4-6 business days from the moment you placed your order. Express shipping has an additional cost of $299 for this bundle.

We have different return policies for each item in the bundles, please read carefully:

1) The EFI Live is a built to order product and not eligible for refunds and cancellations. We guarantee the tuner will work. If you received a faulty or damaged tuner we will replace it. Please refer to the IMPORTANT EFI LIVE INFORMATION tab for more information about the EFI Live tuner. 

2) The Exhaust System is eligible for returns only if it is unused (ie: it was never installed on your truck) within 30 days of purchase. You are responsible for return shipping fees. There is also a $100 restocking fee.

4) The EGR Delete Kit is eligible for returns only if it is unused (ie: it was never installed on your truck) within 30 days of purchase. You are responsible for return shipping fees. There is also a $30 restocking fee.
THE DIESEL DUDES vs Other Retailers
Talk To A Real Human at 888-830-2588

Hide Behind Their Website

We Ship World Wide, Including USA

Limited Shipping Locations

Hundreds Of Positive Reviews From Real Customers

Bad Service & Bad Reviews (or none at all)

Hand Selected The Best Delete Tuners & Parts For Every Year/Make/Model

Show You A Large Catalog Of Options And Tell You "Good Luck, Figure It Out"