Iron Loader Delete Tuner | Ram Ecodiesel 3.0 | 2014-2017
The Diesel Dudes is a family owned business in Montreal, Canada. Our mission is to serve diesel truck owners with high quality parts and software, while providing excellent customer service along the way. 
If you have any questions about our products, or if you are wondering what kit is best for your truck, please reach out. 
Since our inception, our entire goal was to answer any and all questions our customers have. 
We get it, tuning can be complicated, and getting it wrong can damage your truck. That's why we went out of our way to find only the best tuning options for each and every truck model and year, and when we couldn't find a good enough option, we made our own. 
That's right, while we are the authorized dealer for many tuning companies, such as GDP and Proven Diesel, our technicians make many of our tunes in house. 
So either way, we have in house technical support on all of our products, in case you get stuck on the installation. But our installation guides and videos should be more than enough to get you going. 
Just remember, if you ever have questions, just call us at 888-830-2588 and our team will help you out!
You can also follow us on Facebook!
Regular price
Sale price
$1,199.00
Unit price
per
Sale
SOLD OUT
The Iron Loader Delete Tuner allows you to fully delete your emission system. It is the ONLY Ecodiesel tuning option on the market that does NOT require removing your ECM and send it out. This means no downtime for your truck. Your truck will last longer and get better fuel economy.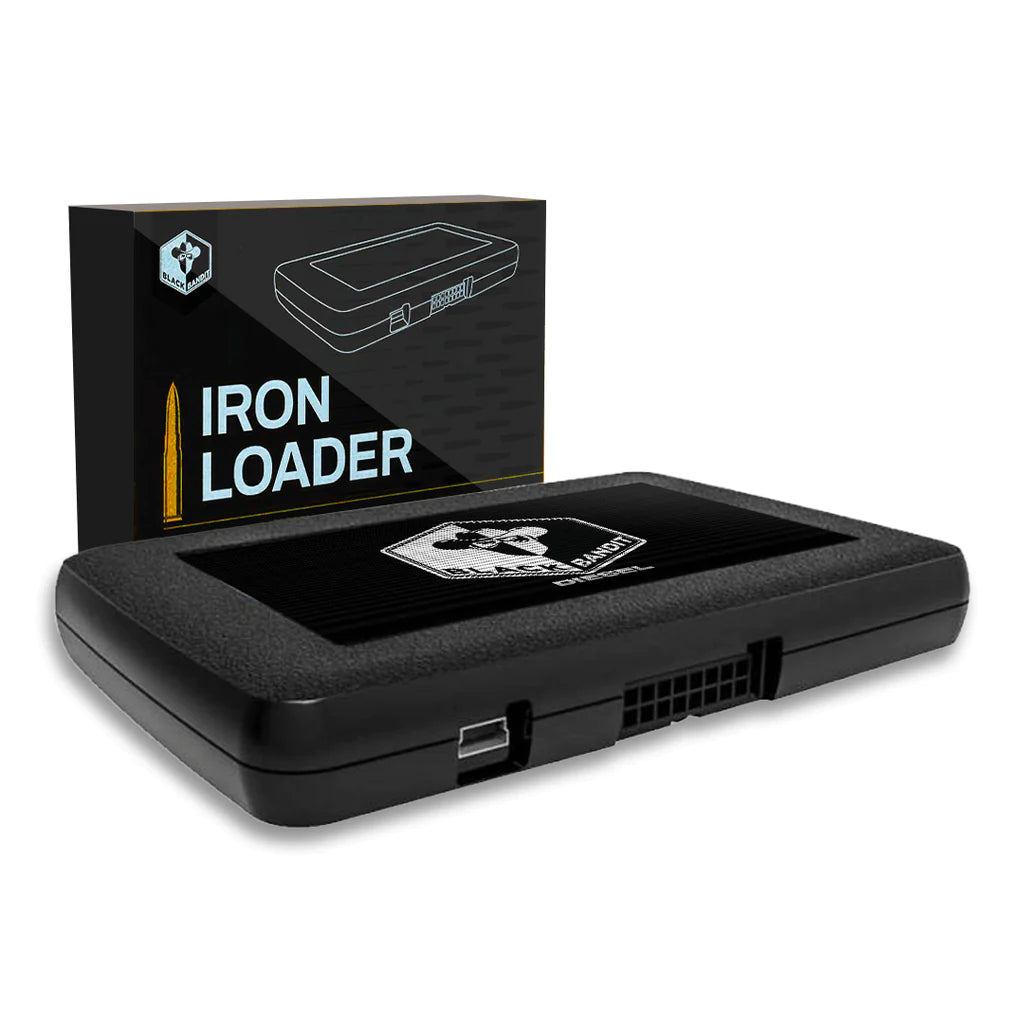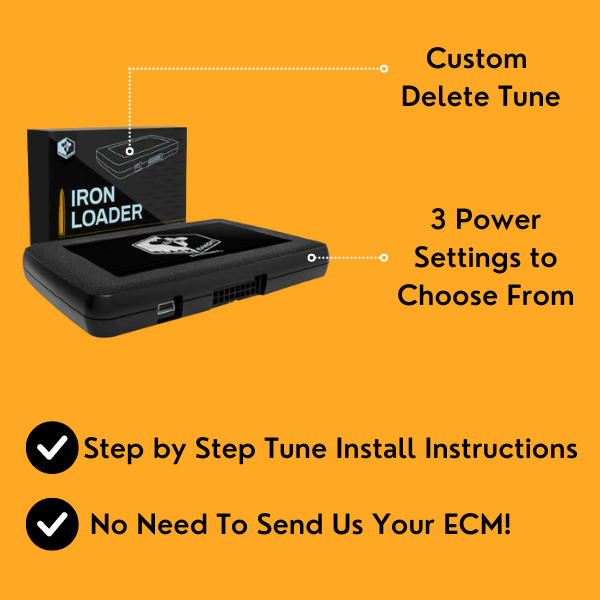 NO MORE EMISSIONS CODES

After the delete tune, your truck will no longer have emission related codes or warnings. 

This includes all

1) "See Dealer" codes

2) Check engine codes

3) "Exhaust system service required" codes

4) Limp Mode codes

5) Other emissions related diagnostic codes
NO NEED TO SHIP US YOUR ECM!

The Iron Loader is the first delete tuning option for the Ecodiesel that does not require you to ship us your ECM.

This means no downtime and no risk of your ECM getting lost or damaged in transit!
FITMENT

2014, 2015, 2016, 2017 Ram 3.0L Ecodiesel Pick Up Trucks.
HOW DOES IT WORK?

We will ship you all the components.

The Iron Loader tuner is NOT preloaded. Here is how it works:

1) You use the tuner to get a read of your ECM.

2) Email us the ECM read file.

3) We use the ECM read file to create your delete tune and email it back to you (3 business days processing).

4) You download the delete tune into your Iron Loader device and then upload the delete tune to your truck.
IMPORTANT INFORMATION

*We cannot tune over an existing tune, if your ECU/PCM was previously tuned it will need to be reverted back to factory before a new tune can be used.*

Before reading your ECM take note of any maintenance or engine lights on the dash.

You should have no errors before reading the ECM. If you have a DEF/DPF countdown issues prior to tuning, those should be cleared. Since those are transmitted by the SCR module it will stay in the cluster and an ECU tune unfortunately does not typically clear those codes.

Be sure your codes are all cleared before you read the ECM.

Clear the codes using a code reader/clearer

1- Clear all codes.

2- Turn the key to the off position. 

3- Remove the negative cable from the battery. 
BENEFITS

By deleting the factory emission system which has been suffocating your diesel, you'll immediately notice a night and day difference. It will perform better in every imaginable way, including speed, fuel economy (5 mpg increase on average), and fewer trips to the autobody shop.

Over time, the kit pays for itself with the fuel savings alone. That's not even considering how many costly trips to the dealer you'll be saving yourself.

The last benefit is peace of mind, knowing your truck no longer has a ticking time bomb attached to it.
TUNE HORSEPOWER SETTINGS

All options include full delete tuning, the only difference is power

1) Base (No additional power added)

2) +50HP

3) +75HP

The 50HP level is enough to feel without putting too much stress on the engine. +75HP is for those looking for even more power.

You can expect up to a 10% MPG increase in fuel economy with the stock power level and up to 7% with the 50HP tune.
SHIPPING & RETURNS

The tuner will delivery within 5-7 business days. Express shipping is available at checkout for an additional $45 and will arrive with 2 days.

This tuner is built to order and not eligible for returns or refunds.
RELEASE OF LIABILITY

We will handle your ECU/PCM like it belongs to our own truck.

However, we are not responsible for any damage, theft or loss due to FedEx or UPS.

Incidents with shipping companies are rare, but in the event your ECU/PCM is damaged in transit, stolen or lost, we do not bear any responsibility.
THE DIESEL DUDES vs Other Retailers
Talk To A Real Human at 888-830-2588

Hide Behind Their Website

We Ship World Wide, Including USA

Limited Shipping Locations

Hundreds Of Positive Reviews From Real Customers

Bad Service & Bad Reviews (or none at all)

Hand Selected The Best Delete Tuners & Parts For Every Year/Make/Model

Show You A Large Catalog Of Options And Tell You "Good Luck, Figure It Out"