Ram Cummins 6.7 Full Delete Bundle | 2010-2012
The Diesel Dudes is a family owned business in Montreal, Canada. Our mission is to serve diesel truck owners with high quality parts and software, while providing excellent customer service along the way. 
If you have any questions about our products, or if you are wondering what kit is best for your truck, please reach out. 
Since our inception, our entire goal was to answer any and all questions our customers have. 
We get it, tuning can be complicated, and getting it wrong can damage your truck. That's why we went out of our way to find only the best tuning options for each and every truck model and year, and when we couldn't find a good enough option, we made our own. 
That's right, while we are the authorized dealer for many tuning companies, such as GDP and Proven Diesel, our technicians make many of our tunes in house. 
So either way, we have in house technical support on all of our products, in case you get stuck on the installation. But our installation guides and videos should be more than enough to get you going. 
Just remember, if you ever have questions, just call us at 888-830-2588 and our team will help you out!
You can also follow us on Facebook!
Regular price
Sale price
$1,749.00
Unit price
per
Sale
SOLD OUT
The Full Delete Bundle includes everything you need to remove your entire emissions system. Your emissions codes will be gone. Your truck will last longer and get better fuel economy. Included is a tuner with preloaded delete tunes, a rust-resistant stainless steel delete pipe, and a complete EGR delete kit.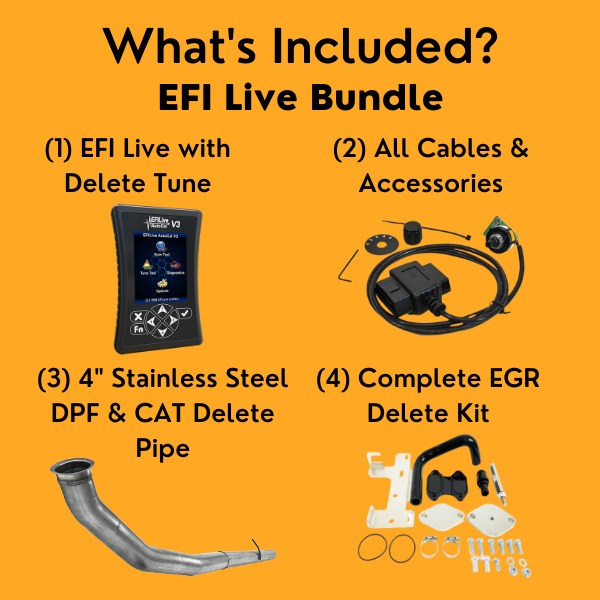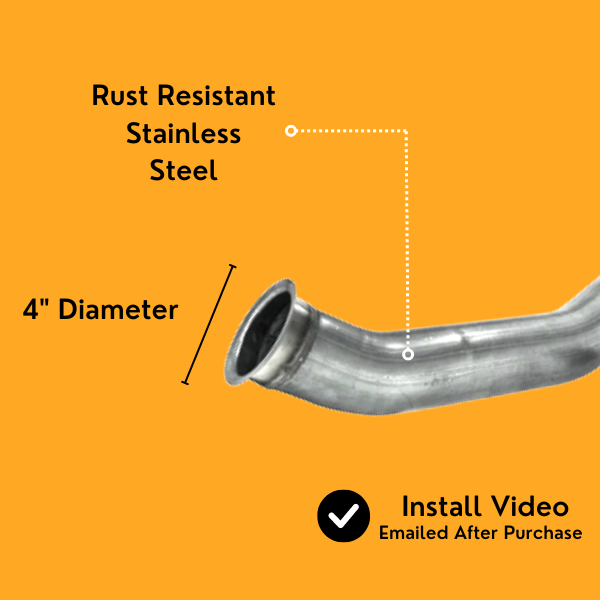 NO MORE EMISSIONS CODES

When you install the delete tune, your truck will no longer have emission related codes or warnings. 

This includes all

1) "See Dealer" codes

2) Check engine codes

3) "Exhaust system service required" codes

4) Limp Mode codes

5) Other emissions related diagnostic codes
FITMENT

2010, 2011, 2012 Ram Cummins 6.7L Diesel 2500, 3500

The kits will fit all PICK-UP trims, cab and box lengths.

This kit will NOT fit the Cab & Chassis trucks. For all Cab & Chassis trucks, please reach out to our team at 888-830-2588
HOW DOES IT WORK?

The Full Delete bundle(s) will permanently upgrade your truck to work without the suffocating factory emissions system.

This means you can remove ALL emissions-related parts and sensors for good, including the:

- DPF (Diesel Particulate Filter)

- DEF tank (Diesel Exhaust fluid)

- EGR System (Exhaust Gas Recirculation)

- CAT (Catalytic Converters, including DOC and NOX, etc.)

This is made possible by our custom delete tunes that wipe away the emissions system from your truck's computer.

All you have to do is: 

Plug the tuner into your truck's OBDII port (located under the steering wheel)

Follow the tune installation instructions we sent you. (Tech support is also available).

Once the pesky emissions system is "deleted" from your truck's programming, you can proceed to remove all of the parts that are holding your diesel back from running at its best.

Our kit includes a DPF/CAT delete pipe that bolts in place of the original DPF and CAT in the exhaust system.

Lastly, the EGR delete kit will allow you to fully remove the original EGR system, seal shut the openings, and reroute the exhaust to flow out of the pipe.
WHAT'S INCLUDED?

The EFI Live Bundle includes:

1) EFI Live Delete Tuner and all required accessories. Rotary switch to change power levels

2) 4" Stainless Steel DPF & CAT Delete Pipe

3) Complete EGR Delete Kit
POWER SETTINGS

EFI Live

Stock (0HP), +30HP, +60HP, +100HP, +130HP
BENEFITS

By deleting the factory emission system which has been suffocating your diesel, you'll immediately notice a night and day difference. It will perform better in every imaginable way, including speed, fuel economy (5 mpg increase on average), and fewer trips to the autobody shop.

Over time, the kit pays for itself with the fuel savings alone. That's not even considering how many costly trips to the dealer you'll be saving yourself.

The last benefit is peace of mind, knowing your truck no longer has a ticking time bomb attached to it.
IMPORTANT INSTALLATION INFORMATION

Not tech savvy? Nervous about the software or potentially frying your truck? No worries! With every purchase, we send you a step-by-step instruction guide. Further tech support is also available should any issues arise.

The good news is, our tuners also come preloaded with your delete tune, just plug it into your truck's OBDII port and follow our instructions to install your tune. 

And yes, if you run into any technical issues, we got your back. You can contact us anytime and we'll resolve any issues you may encounter.

To install the DPF delete pipe, you'll need basic tools you probably already own (things like wrenches, ratchets, etc.). There is no welding required; it is installed using bolts and clamps (which we provide).

All of the pieces of the EGR delete kit are bolt on as well, no welding required. We will email you installation videos for these parts as well.

If you are a complete fish out of water when it comes to working on your truck, we highly recommend hiring a shop to do the install for you.
IMPORTANT EFI LIVE INFORMATION

The tune we create for the EFI Live is a custom delete tune. After purchasing the EFI Live bundle, you will be emailed a vehicle information form. You are required to provide the following information:

1) VIN

2) Year/Make/Model

3) Transmission Type

4) Transfer Case Type

5) Tire Size

6) Any Vehicle Modifications

Once we receive this information, we need 2-3 days to process your custom tune.

We will ship it to you with the custom tune already preloaded onto the device. Just plug it into your vehicle to upload the tune.

Sometimes, your EFI Live device may show an error code. Do not panic. It is an easy fix.

Every vehicle is unique. In the event that you receive an error code, don't worry. These issues are super easy to resolve.

All you need to do is take a picture of the error message and email is to us at support@thedieseldudes.com

Our tune technicians will revise the tune (within 1 business day). We will email you the updated version with step by step instructions on how to download it on your EFI Live device. 

If you know how to use a microwave, you will be able to do this.
TRANSMISSION TUNING

Transmission tuning included in EFI Live Bundle.
SHIPPING & RETURNS

EFI Live Shipping Times

With standard shipping, you'll receive your kit within 6-10 business days from the moment you placed your order.

With express shipping, you'll receive your kit within 4-6 business days from the moment you placed your order. Express shipping has an additional cost of $199 for this bundle.

We have different return policies for each item in the bundles, please read carefully:

1) The EFI Live is a built to order product and not eligible for refunds and cancellations. We guarantee the tuner will work. If you received a faulty or damaged tuner we will replace it. Please refer to the IMPORTANT EFI LIVE INFORMATION tab for more information about the EFI Live tuner. 

2) Exhausts are eligible for returns only if it is unused (ie: it was never installed on your truck) within 30 days of purchase.

You must request a return label. Any items returned to us without our return label are not eligible for any refund.

The cost of return shipping will be deducted from your refund. This can vary depending in your location.

In addition a $100 Restocking fee will be applied DPF/CAT pipes and $150 Restocking fee for Full Length Exhausts.

If you receive the wrong part, or a damaged part beyond use, we will send you a replacement part at no extra charge.

For all requests, please open a support ticket here

3) The EGR Delete Kit is eligible for returns only if it is unused (ie: it was never installed on your truck) within 30 days of purchase.

You must request a return label. Any items returned to us without our return label are not eligible for any refund.

The cost of return shipping will be deducted from your refund. This can vary depending in your location.

In addition a $50 Restocking fee will be applied.

If you receive the wrong part, or a damaged part beyond use, or your kit is missing a part, we will send you a replacement at no extra charge.
EFI Live Delete Bundle
Just installed but so far I am very happy with the products provided. Thank you!
Ram 12' 2500 full delete
Since I have got the kit "completely" installed. It has been great. There were a few issues with product quality though. The down pipe off the turbo was bent wrong, I had to heat and hammer it a little bit in order for it to fit. The machined mounting surface of the intake valve delete was damaged when I received it, had to do some sanding to smooth it out. And I was only given the EFI-live tune for my 12' Ram 2500 instead of both the tune and boot patch. The boot patch is required for a 2012 Ram which I did not get on initial delivery. Once I got the boot patch, fixed the down pipe, and smoothed out the intake valve. Everything has worked fantastic. The power increase on preset 5 is very noticeable, very fast, very fun. Still testing the fuel economy. Great products, little more attention to detail.
Apologies for the miss-steps in your order and thank you for the honest review. We recently changed suppliers for the 2010-2012 Ram pipes to avoid that issue with fitment inconsistency.
We also added a new step-wise checklist for our tune technicians to make sure they don't make simple mistakes such as missing the boot patch file. Thank you for your patience! We are happy to hear the end result going well!
THE DIESEL DUDES vs Other Retailers
Talk To A Real Human at 888-830-2588

Hide Behind Their Website

We Ship World Wide, Including USA

Limited Shipping Locations

Hundreds Of Positive Reviews From Real Customers

Bad Service & Bad Reviews (or none at all)

Hand Selected The Best Delete Tuners & Parts For Every Year/Make/Model

Show You A Large Catalog Of Options And Tell You "Good Luck, Figure It Out"