Regular price
Sale price
$75.00
Unit price
per
Sale
Sold out
We Pay Shipping

Tech Support

Installation Guide
View full details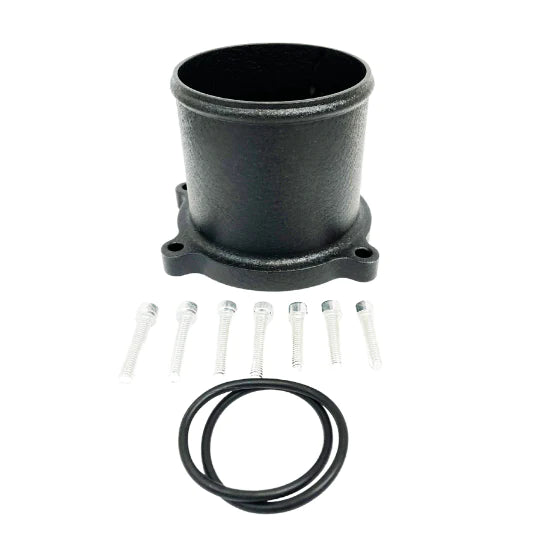 One part of a complete EGR delete that is overlooked by most Cummins owners is the factory throttle valve.
With the stock EGR system in place, the stock Cummins throttle valve will open and close to adjust the ratio of fresh intake air to re-circulated exhaust gasses.
When it's completely or partially closed, the engine draws the air needed through the EGR system.
But when the EGR system is removed, there is no alternative source of intake air when the throttle valve closes.
To get around this, the operation of the throttle valve is usually coded out entirely for most EGR-less tunes and the actuator itself is left unplugged.
Sometimes the throttle valve can move unintentionally to a completely or partially close setting which leads to cutting off the air supply to your Cummins and suffocating it.
This can cost you power, shut your engine down entirely, or even cause catastrophic damage if it happens at higher RPM.
Even when open and unplugged, the stock 6.7 Cummins throttle valve obstructs smooth airflow through your intake.
Don't take the chance that your old throttle valve will stay put. Pick up the  Throttle Valve Delete for 6.7L Cummins engines and put the finishing touch on your EGR delete.
Great product
Fast shipping, no issues!
Awesome Delete
I just finished the delete. I had the clutch go out and the thermostat go out as soon as I did the exhaust delete and tune. Waited for time to change the clutch. I will be pulling a gooseneck to California from Texas next week and know it will pull great. My mileage jumped from 15/16 and worse when the egr would go berserk. Now I get over 21mpg not towing. I'll let you know after my trip how it performs.
Tex
Throttle Valve Delete | Dodge Ram 6.7L Cummins | 2007.5-2021
Great product just missed the length of the screws
The screws provided worked for one side but not the other so they don't sit flush . Besides that I'm happy with the results . Great job guys !