Universal 4" Optimal Flow Muffler
The Diesel Dudes is a family owned business in Montreal, Canada. Our mission is to serve diesel truck owners with high quality parts and software, while providing excellent customer service along the way. 
If you have any questions about our products, or if you are wondering what kit is best for your truck, please reach out. 
Since our inception, our entire goal was to answer any and all questions our customers have. 
We get it, tuning can be complicated, and getting it wrong can damage your truck. That's why we went out of our way to find only the best tuning options for each and every truck model and year, and when we couldn't find a good enough option, we made our own. 
That's right, while we are the authorized dealer for many tuning companies, such as GDP and Proven Diesel, our technicians make many of our tunes in house. 
So either way, we have in house technical support on all of our products, in case you get stuck on the installation. But our installation guides and videos should be more than enough to get you going. 
Just remember, if you ever have questions, just call us at 888-830-2588 and our team will help you out!
You can also follow us on Facebook!
Regular price
Sale price
$150.00
Unit price
per
Sale
SOLD OUT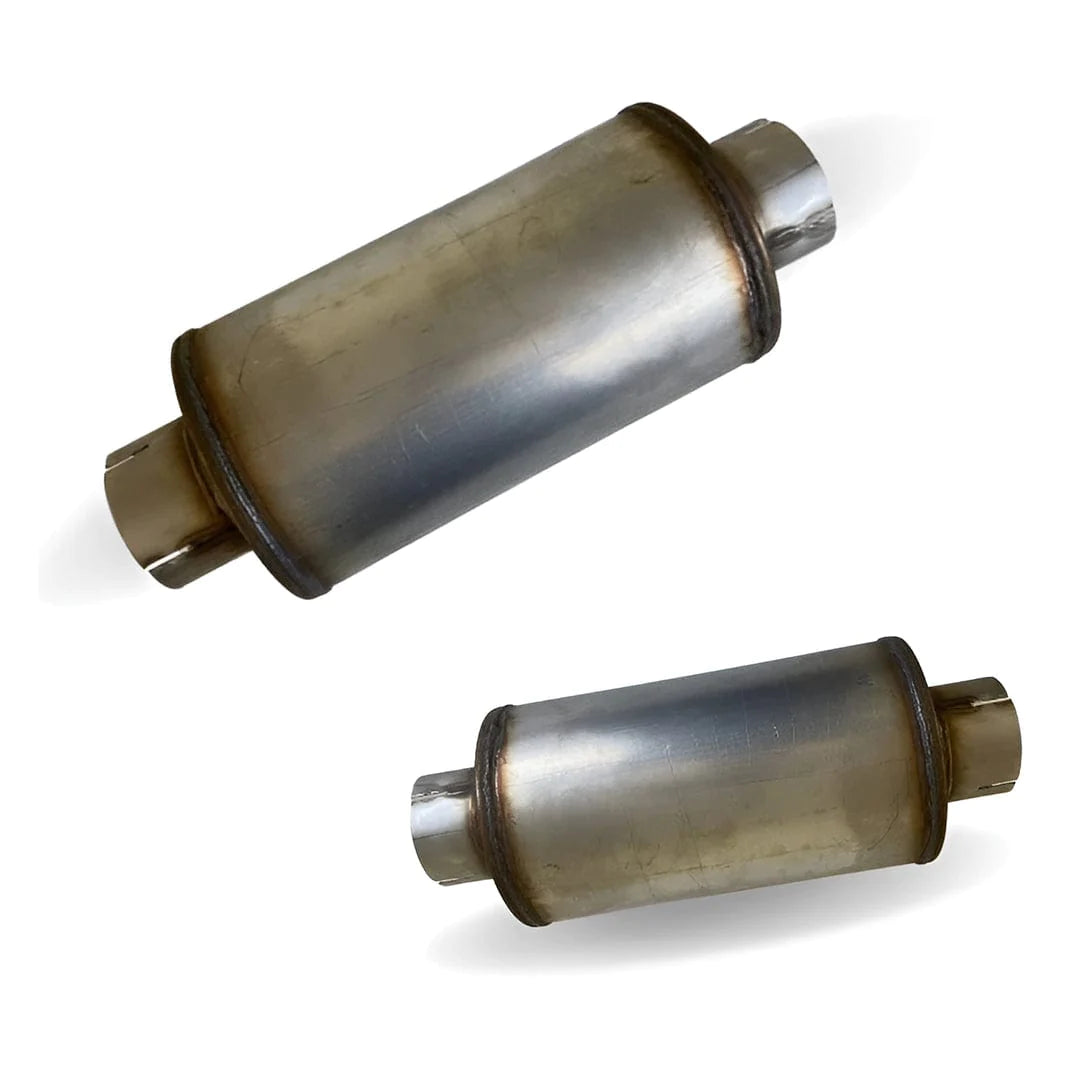 Description

 Feature
4 Inch
Material
T409 Unpolished


Stainless Steel

Inlet Size
Outlet Size
Overall Length
Body Length
Body Size

Vehicle Fitment


Our mufflers fit all Powerstroke, Cummins and Duramax models available on our website. This will fit any 4" aftermarket straight pipe exhaust system. 

Installation



You will have to measure and cut your current exhaust for this to fit. We recommend welding the muffler in place. However, you can also clamp them on. Clamps are NOT included. 

Product Features

Straight-through flow path for maximum performance
Non-directional design, allowing you to install the muffler in however way suites your truck and exhaust system best.
Stainless steel construction for lifelong protection (unpolished)
Internal stainless steel mesh & fiberglass construction to withstand harsh conditions and advanced technology to absorb unwanted interior resonance.
Straight-through design to reduce back pressure and enhance performance 

 
Excellent Product
Quality muffler with perfect fit & finish. When driving casually, the sound of the exhaust note is deeper than stock and not loud. When you really get on it, the sound is impressive.