EFI Live Autocal V3 Dodge Ram 6.7L Cummins 2007-2021 | Delete Tuner
The Diesel Dudes is a family owned business in Montreal, Canada. Our mission is to serve diesel truck owners with high quality parts and software, while providing excellent customer service along the way. 
If you have any questions about our products, or if you are wondering what kit is best for your truck, please reach out. 
Since our inception, our entire goal was to answer any and all questions our customers have. 
We get it, tuning can be complicated, and getting it wrong can damage your truck. That's why we went out of our way to find only the best tuning options for each and every truck model and year, and when we couldn't find a good enough option, we made our own. 
That's right, while we are the authorized dealer for many tuning companies, such as GDP and Proven Diesel, our technicians make many of our tunes in house. 
So either way, we have in house technical support on all of our products, in case you get stuck on the installation. But our installation guides and videos should be more than enough to get you going. 
Just remember, if you ever have questions, just call us at 888-830-2588 and our team will help you out!
You can also follow us on Facebook!
Regular price
Sale price
$899.00
Unit price
per
Sale
SOLD OUT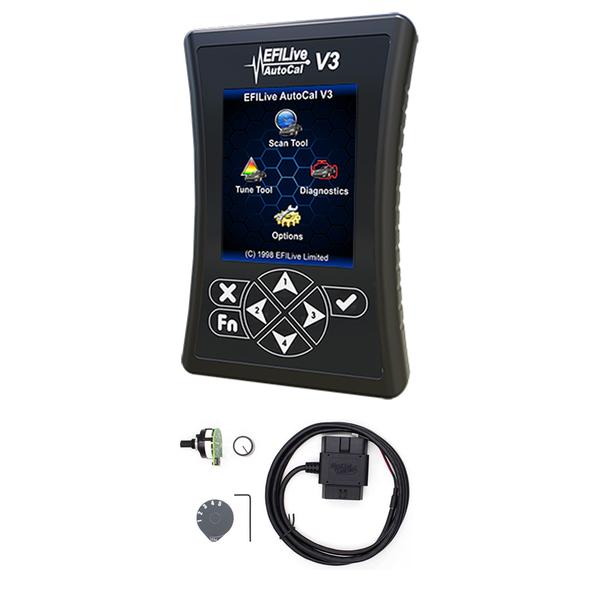 Description

✅ Best Selling Dodge DPF & EGR Delete Tuner

✅ Bullet-proof Engine Reliability

✅ Massive Fuel Savings

What's Included

Custom DPF Delete Tune 

Unlock Cable & Switch for Shifting Between Power Levels

Delete Tune Details

VIN Specific tune made on the dyno, custom tailored to your Cummins model

Compatible with Ram 2500, 3500, 4500 & 5500. Pick Up and Cab & Chassis models.

Eliminate ALL emissions sensors/components with no codes

Diesel Particulate Filter (DPF)
Exhaust Gas Recirculation (EGR)
Diesel Exhaust Fluid (DEF)
Catalytic Converter (CAT)
Selective Catalytic Reduction (SCR)
Diesel Oxidation Catalyst (DOC)
Exhaust Gas Temperature (EGT) 

Performance Details

Get the perfect amount of power for all uses with 4 different power levels
Shift between any power level whenever you want (on the fly) only up to 2018 Models

2007.5-2018 Ram 6.7L Cummins 

| | | | |
| --- | --- | --- | --- |
| Level 1 | Level 2 | Level 3 | Level 4 |
| Stock | +65HP | +100HP | +130HP |

 

2019-2021 models have 4 power levels, but no shift on the fly. 


| | | | |
| --- | --- | --- | --- |
| Level 1 | Level 2 | Level 3 | Level 4 |
| Stock | +45HP | +70HP | +100HP |




Shipping

Once you order an EFI Live, look for an email asking to fill out a custom tune form. Once we receive the completed tune form, we will process your order within 1 business day. Standard shipping will take 4-8 business days.

EFI Live Return Policy


Your EFI Live purchase contains a VIN specific, custom tune file. As a result it cannot be returned. Once we receive the tune form from you, we will no longer honor the refund of a cancelled order. If you receive a faulty tuner we will replace it. If you experience technical difficulties, we will assist you. Contact us at sales@thedieseldudes.com if you have any questions

Frequently Asked Questions

Q: Do I have to delete ALL emissions parts?

You have to delete the DPF. But all emissions systems are shut off with the tune, so you can unplug any sensors/wiring where applicable. EGR deletes are optional but highly recommended for the best reliability. At the very least make sure to unplug the EGR wiring harness.

Q: Does the tuner need to remain plugged in?

Once the delete tune is installed, you can unplug the EFI Live. 

Q: Can I tune multiple trucks?

Yes, but you will need additional tune packs for each truck you wish to delete. If you already have an EFI Live device, you can purchase additional tune packs here.

Q: Will aftermarket parts like turbos, tires, fuel pumps, etc. mess up my tune?

Your tune is specific to the current version of your truck. Aftermarket modifications such as tire size changes will require a tune revision (included in purchase price). Contact us if you have questions about modification sales@thedieseldudes.com

Bonus EFI Live Features

Read & Clear ALL DTC codes
High speed data logging

Display Data while logging

Automatically saves trace files
Totally different truck now!
Bought this 07.5 that was already deleted, but the tuner did not come with the truck so I had no idea what setting it was on or anything. Talked to the guys here and told them what I'm looking for and what I already had. Took it out after the program and switch install, and even on number 1 setting, the truck has more get up and go. I don't recommend keeping it on the number 5 setting though until some transmission upgrades are done, but every once and while to put a smile on everyone's face can't hurt. Worth every penny as this kinda thing is getting harder to come by.
Just be sure to read the install paper. It is a different procedure for the 07.5 to 09 trucks.
Outstanding Now
I finally got around to installing My EFI Live Autocal V3 on my 09 Cummins and came to life after install and I think I'm gonna need more clutch lol . Diesel Dudes were there for any questions. Looking forward to a road trip now
EFI Live Autocal V3 Dodge Ram 6.7L Cummins 2007-2021 | Delete Tuner
Outstanding customer support and products.
I purchased efi live on the autocal and was nervous about spending that much money and if the efi live was going to work for me. I previously had a mini maxx and it worked good but I wanted some better tuning. I am so glad I went with what I did, the tuning is everything I had hoped for and the customer service is outstanding. I received the tuner in like 2 days which I was amazed and I asked if I could get a single tow tune after purchasing the sotf software and the next day there it was waiting for me in an email. They provided very detailed instructions on how to load it and I had no problem adding it on to the auto cal. I just can't thank them enough for everything they have done for me and the phenomenal support. Thanks again.
First 300 mile impressions
Easy installation. I added an FTE resonator along with the kit muffler. The exhaust note is nearly stock. Running in switch position stock, the throttle is more responsive and fuel mileage is up 4mpg.